Defected at Eden: A House Music Symphony
Defected's Friday nights at Eden in San Antonio, Ibiza, have become the gold standard in house music soirees. DJ Mag's Olivia Stock recently experienced the climax of the 2023 season, marking 20 years of DR pulsating presence on the Balearic island. Picture this: a club-goer taking a breather only to be drawn back instantaneously by the classic beats of Modjo's 'Lady (Hear Me Tonight)'. This sums up a label party – the music is an irresistible force.
As night descended on Eden Ibiza, the atmosphere was electric, an epitome of the British label's enduring legacy. Wes Saunders, the new guard, described this season as "one for the history books". True to Defected's roots, even on the biggest night where big-name DJs might be the norm, it's an in-house affair. Saunders reflects, "Our residents truly capture the essence of Defected," as the powerhouse Void sound system sets the stage for a house music extravaganza.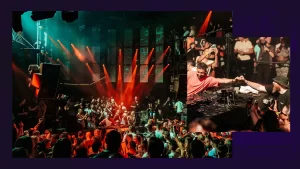 Tracing back, the journey in Ibiza has been transformative. Starting with Pacha in 2000, followed by moves to Booom and then Ushuaïa and finally to Amnesia. The decision to transition to Eden in 2017 was motivated by a void Saunders and Defected founder, Simon Dunmore, identified in the Ibiza club scene – a need for authentic house music for budding enthusiasts. The shift to Eden, a club on a renaissance journey of its own after changes in ownership, proved serendipitous. As Saunders puts it "The alignment was just perfect."
With its unwavering "just house" stance, the label residency emerged as a beacon for both newbies and house music aficionados. Rinco Soesman, the maestro behind Eden, cherishes this alliance "It's about that raw, unadulterated party spirit. Everyone's welcome to our house."
From the opening beats by Defected's rising star, Paige Tomlinson, to the closing bangers by the iconic duo, Sam Divine and Low Steppa, the night was a rollercoaster of house classics and contemporary anthems. The electrifying atmosphere, complemented by Eden's dazzling aesthetics, the humongous disco ball, and the ubiquitous "House music all life long" motto, made it a night to remember.
View this post on Instagram
Defected's global footprint, from the shores of South Africa to the tropical vibes of Indonesia, is impressive. Yet, something magical happens when they touch down in Ibiza. Saunders hints at a long-lasting bond with Eden "We've grown together, and it's been a beautiful journey." Two decades into creating Ibiza memories and with a winter of surprises anticipated, the label has truly mastered the art of the Ibiza parties.
See you next summer? With Defected, expect the unexpected before then! 😀