Dj Mag Top 100 DJs 2023: Riding the Waves of Electronic Beats
In the dynamic world of electronic music, the Top 100 DJs list remains a testament to the ever-evolving beats and rhythms. Celebrating its 30th anniversary, the chart continues to showcase the best in the industry. This year, French DJ sensation, David Guetta, reclaims his throne, marking his fourth triumph in this prestigious ranking, outshining last year's champ, Martin Garrix. Guetta, known for his electrifying mixes, previously secured wins in 2011, 2020 and 2021. He now shares the runner-up spot for the most Top 100 DJ wins with Garrix, while Armin van Buuren holds the record with five wins. The question on everyone's lips: Will Guetta or Garrix dethrone the Dutch trance legend? Hmmmm.
The top 10 sees familiar faces with Alok and Armin van Buuren, the latter a constant in the top five since 2002. Peggy Gou, the South Korean DJ/producer sensation, makes a monumental leap to ninth place, becoming the highest-ranking woman in the poll since Lisa Lashes in 2000. Gou's success also heralds the arrival of house music in the top 10, snatching the Highest House DJ title from Vintage Culture. House and techno continue to resonate across the chart with Charlotte de Witte and Fisher making notable appearances.
This year's poll on Dj Mag Top 100 reflects global diversity, with a substantial turnout from Chinese fans through DJ Mag's dedicated China voting app. The app's influence is evident, with increased representation from Asian artists like Aryue, KAKA, and Lizzy Wang.
In contrast, hard dance faces challenges despite Angerfist clinching the Highest Hard award. Notably, Dimitri Vegas & Like Mike, Timmy Trumpet and Hardwell are infusing harder styles into their music. Could this signal a resurgence for hard dance? We'll see. 🤭
Dj Mag Top 100 DJs poll, now three decades strong, drew an astounding 1.3 million votes from 237 territories. It underscores the global impact of electronic music from powerhouse countries like the USA, Brazil and the UK to unexpected locations like Sudan, Eritrea and the remote Tuvalu islands.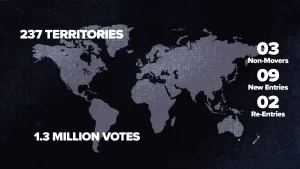 The awards, announced in a star-studded event hosted by Arielle Free at The Standard, Ibiza, featured an unforgettable performance by David Guetta. The entire event was a celebration of electronic music's global appeal and is now available for streaming on Dj Mag, ensuring fans worldwide can relive the magic.
Read the full Top 100 DJs 2023 list, here.