Party Like The Good Old Days: The Our House Movement by James Hype & Meduza
British maestro James Hype and the suave Italian Meduza are on a mission. Their goal? Ignite the dancefloors and whisk us back to the essence of clubbing – pure, undistracted exhilaration. Drenched in the sun and pulsating vibes of Ibiza, the birthplace of iconic parties, they've unveiled their latest sensation, "Our House". A brand that has not only created waves but massive musical tsunamis.
"Our House" didn't just make an appearance on Ibiza's party scene. No, it danced, it dazzled, and it declared a new age for the iconic Hï Ibiza venue. The club, often touted as the world's number one destination for music lovers, found its heart's beat syncing to a new, electrifying rhythm. And with every weekly event, a little more magic was added to the island's legend.
But as the whispers of their success grow louder, so does the anticipation for what's next. With the Amsterdam Dance Event (ADE) on the horizon, the music industry's eyes and ears are all tuned to one thing: the colossal collaboration between these two maestros. Their shared vision? A back-to-back showdown that's been on everyone's lips. A musical rendezvous that promises explosive sets, unprecedented energy, and moments that will be etched in ADE history.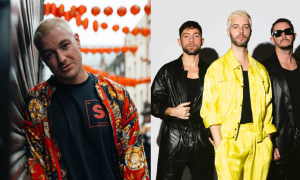 The union of James Hype and Meduza isn't just about two artists coming together. It's about two visions, two musical journeys, and a shared passion for reviving the true essence of live events. After a season of harmonized sets, synchronized beats, and rave reviews, they're more in sync than ever. They're not just on the same page; they're writing the book on immersive musical experiences.
Now, let's talk about that twist that's got everyone talking: A dancefloor without the constant glow of phone screens. The inspiration? Numerous nights seeing dance enthusiasts trapped behind their screens, losing moments that should've been lived and not just recorded. Their solution? Echoing the ethos of iconic underground havens. Places like Berlin's Berghain, where the music pulses, the crowd sways, and cameras remain notably absent. For global sensations like James Hype & Meduza, it's a brave new world. Their bold message to party-goers is simple yet profound: "Amsterdam, let's reinvent clubbing. At Our House during ADE, we're unplugging to reconnect. No phones, just heartbeats. Dive into the sound, feel the energy, and let's craft memories, not just moments."
View this post on Instagram
Gear up, tune in and let's redefine what it means to party. See you on the dancefloor!