Korg is revolutionizing the music scene yet again with its latest innovation – the Kaoss Replay
This new model reinvents the iconic Kaoss Pad by infusing it with state-of-the-art sampler-style features. Imagine being able to manipulate sound with a touch, thanks to its 16 dynamic sampler pads and a versatile X/Y touch screen.
The Kaoss Replay it's a powerhouse of creativity with 128 sample slots spread across eight banks. Plus, with the ability to store up to 100 projects in its built-in storage, the possibilities are endless. This device is a dream for musicians and producers who love to experiment and innovate.
In true Kaoss fashion, the Replay is loaded with an impressive array of 128 FX options – from ethereal reverbs and crisp delays to versatile filters and captivating loopers, this device has it all. The Pad Motion feature is a game-changer, allowing you to record and automate finger movements for a truly unique sound experience. And let's not forget the vocal FX, complete with pitch correction, perfect for those who love to add a vocal flair to their loops.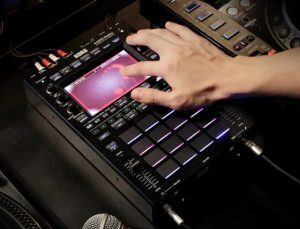 The Replay's 16 velocity-sensitive pads are just the beginning. It also boasts two assignable crossfaders, giving you unparalleled control over any parameter or group. And when it comes to connectivity, the Kaoss Replay has you covered with line and phono inputs, a mic-in jack and an aux-in. Plus, with 5-pin MIDI I/O and a USB microB port, connecting to other devices is a breeze. A microSD card slot takes care of all your storage needs.
View this post on Instagram
Priced at £949, the Korg Kaoss Replay is not just an investment, it's a statement. It's a tool that promises to elevate your music to new heights. Get ready to unleash your creativity with this cutting-edge device. Stay tuned for its release and discover more on the Korg website. This isn't just an effects unit – it's the future of sound manipulation. 🎶🎶