Peggy Gou's Electrifying Tease of a Musical Marvel with Rock Icon Lenny Kravitz! 
The whispers have been confirmed and the excitement is real: Peggy Gou has just dropped a scintillating teaser for her latest musical escapade, a duet with none other than rock royalty, Lenny Kravitz. Dubbed by Gou as "the epitome of cool," this revelation has set social platforms abuzz with the announcement of their joint track, "I Believe In Love Again."
In a sneak peek that has sent waves across the internet, a video snippet has surfaced, showcasing the electrifying blend of electronic beats and rock's raw energy that characterizes the new single. With the track's original audio pulsating in the backdrop, Gou and Kravitz are captured sharing a vibe, dancing to the rhythm in an automobile, embodying joy and camaraderie. In a heartwarming display, Peggy crafts a heart with her fingers, joined by Kravitz, as they both bask in the glow of their top-tier creative alliance.
View this post on Instagram
Gou's social media tease was captioned with heartfelt reverence "I'm honored and hope you love it as much as we do!" – a sentiment that was echoed by the fans' fervent reactions. The comments section lit up with affectionate emojis and messages, all heralding the pair's harmonious venture. It was a digital love fest with fans collectively marking their calendars for the day of the drop.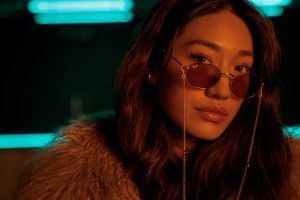 The creative confluence of Peggy Gou's electronic prowess and Lenny Kravitz's eclectic blend of rock, reggae, R&B and funk promises a track that's nothing short of a sonic odyssey. The video snippet alone has served up an appetizing preview of the auditory feast set for release on November 8th.
Recently, Gou has been documenting a flurry of activities during her New York takeover, from candid interviews to intense studio sessions and captivating photoshoots, keeping her fans glued to their screens in anticipation of her latest ventures.
View this post on Instagram
So, music lovers and fans alike, brace yourselves. The air is charged with the promise of "I Believe In Love Again" – a tune that's set to redefine the soundscape and capture hearts worldwide. Stay tuned and get ready to hit play on what's sure to be the soundtrack of the season! 🎶🎶🎶🎶