Peso Pluma: Reigning Champion of Mexican Music Shines at 2023 Billboard Music Awards
In a stunning display of musical prowess, Peso Pluma, the 24-year-old Mexican music sensation, delivered a show-stopping performance at the 2023 Billboard Music Awards. His electric rendition of the swag-filled corrido "Rubicon" captivated the audience, marking another triumphant moment for the star.
A Knockout Stage with Boxing Legend Mike Tyson
The stage, transformed into a dynamic boxing ring, set the scene for Peso Pluma's electrifying performance. Joining him was none other than boxing legend Mike Tyson, sporting a robe emblazoned with "the best ever," adding an extra layer of excitement to the event.
Peso Pluma: The Heartbeat of Mexican Music
As Peso Pluma, born Hassan Emilio Kabande Laija, entered the ring, his legion of superfans erupted in cheers. The hitmaker, currently Mexican music's brightest star, performed "Rubicon" from his groundbreaking album "Génesis." The performance, featuring Tyson and a seven-piece band, was nothing short of spectacular.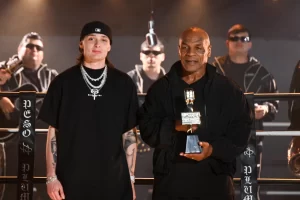 Historic Achievements and Top Latin Song Award
The artist journey to stardom reached new heights as he received the top Latin song award for the global hit "Ella Baila Sola," a collaboration with Eslabon Armado. This track, a regional Mexican song, broke barriers by entering the top five on the all-genre Billboard Hot 100 chart – a historic first.
Peso Pluma's Grateful Acknowledgments
In a heartfelt moment, Mike Tyson hailed Peso Pluma as "the people's champion." Graciously accepting the award, Peso Pluma expressed his gratitude in English, thanking Tyson, his fans, and the Billboard Awards for their support and recognition.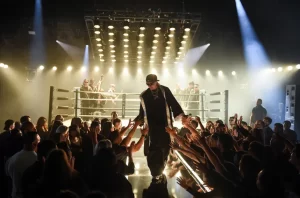 A Record-Breaking Artist
He's success story includes 22 entries on the Hot 100. He made history again in June, leading both the Billboard Global 200 and Billboard Global Excl. U.S. lists simultaneously with different songs. His album "Génesis" debuted at No. 3 on the Billboard 200, setting a new record for a música Mexicana album.
Continued Dominance in Latin Music
Pluma's dominance in Latin music was further solidified at the Billboard Latin Music Awards in October, where he scooped eight awards, including artist of the year, new. His impressive showing as a six-time finalist at the Sunday awards underscored his unwavering popularity and influence in the music industry.