Daft Punk Reveals Rare Moment: Pharrell's First Reaction to 'Get Lucky'
Daft Punk has unveiled a mesmerizing moment: the instant Pharrell Williams listened to 'Get Lucky' for the first time.
Marking the decade-long journey of Daft Punk's iconic 'Random Access Memories', the electronic duo is offering a treat to fans with behind-the-scenes interviews and unseen moments from the album's inception.
The most recent edition of Memory Tapes throws light on Pharrell's involvement in the creation of 'Get Lucky'. The vintage footage captures the magic as he listens to the final cuts of both 'Get Lucky' and 'Lose Yourself to Dance'.
In this riveting conversation, Pharrell, the mastermind behind The Neptunes, shares an interesting tidbit: he initially believed he was recording demo vocals, only for someone else to replace them later.
Go on and you'll find out about the interactions with the duo renowned manager and the brains behind Ed Banger Records, Busy P. The duo's collaboration dates back to 2001, with Pharrell's rendition of 'Harder Better Stronger'.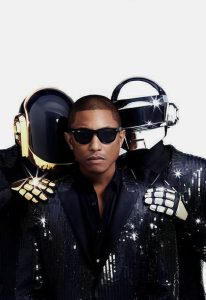 The Memory Tapes series also shines a spotlight on music legends like Chilly Gonzales, Todd Edwards, DJ Falcon and Nile Rodgers. All of these insightful chats took place either at the vibrant Henson Studios in LA or the eclectic Gang Studios in Paris – Daft Punk's main hubs for 'Random Access Memories' production.
In other thrilling news, Daft Punk fans can look forward to a fresh 'Drumless Edition' of their favorite album. Set to release on vinyl and all major digital platforms on November 17th, the album's track 'Within' is already setting the airwaves on fire.
Catch this electrifying episode featuring Pharrell Williams below! 🔥🎶🤖