Ready for a musical evolution? 😀
Technics has just dropped news of its upgraded SL-1200 turntable: The SL-1200GR2. Tagged as the "future wave" of direct drive turntables, this iteration is a refreshing take on the globally celebrated SL-1200/1210GR model. At the heart of this innovation lies the cutting-edge ΔΣ-Drive (Delta Sigma Drive) technology, ensuring an enhanced motor-drive circuit. But that's not all; it boasts an impressive noise-cancellation feature. And for the eco-conscious audiophiles? The SL-1200GR2 comes wrapped in environmentally-friendly cardboard packaging.
Eager to get your hands on one? Mark your calendars! The sophisticated silver SL-1200GR2 and the sleek black SL-12120GR2 models are set to hit the shelves in December 2023. Priced at $2,199.99 / £1,799 / €1,999. Find out more here.
On a related note, Technics wasn't shy about showcasing innovation earlier this year when they introduced a pristine matte white finish for the SL-1500C model. Frank Balzuweit, Technics product maestro, described the design, saying "The crisp white shade accentuates the SL-1500C's minimalist beauty, emphasizing only the essential features of a top-notch turntable."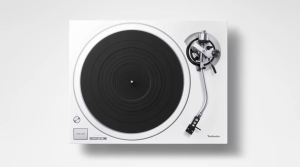 In other Technics news, hats off to Cwmbran DJ maestro Huw Wackman, famously known as Miaer Lloyd. He clinched the coveted Technics DMC UK championship title last month, achieving this monumental feat after an astounding 36-year journey.