Tomorrowland Brasil 2023: An Experience Beyond Music!
As the calendar pages flip closer to October, the music world is buzzing with excitement. Tomorrowland Brasil 2023 is almost upon us and this year, it promises an experience like no other at Parque Maeda in Itu, São Paulo, from October 12th -14th.
A Gathering of Over 180,000 Souls
Imagine the scene: over 180,000 enthusiastic festival-goers, hands in the air, moving to the beats of world-renowned artists under the Brazilian sky. The thrill is real and palpable!
An Unrivaled Musical Lineup
From electronic music giants such as Martin Garrix, Tiësto, Afrojack and Steve Aoki to global icons Skepta and John Newman, the stage is set for a mesmerizing show.
And hold on, the list doesn't end there! Dynamic performers like ACRAZE, Amber Broos, Âme, Dimitri Vegas & Like Mike, DJ BORING and Don Diablo, among many others, will ensure there's never a dull moment.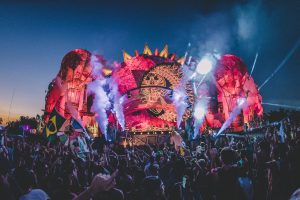 Dive Into the Theme: "The Reflection of Love"
This year's theme goes beyond catchy phrases. "The Reflection of Love" is a call to unity, to connection and to the shared love for music. Every beat, every lyric and every light at this grand festival aims to mirror the love and passion of its attendees.
View this post on Instagram
In a quick throwback, let's not forget that Tomorrowland's main festival in Belgium, earlier in July, was a monumental showcasing with an enormous tally of 600 acts.
So, whether you're a seasoned veteran of this fest or a first-timer, get ready to immerse yourself in an unparalleled musical journey. Pack your bags, lace up those dancing shoes and dive into the magic that is Tomorrowland Brasil 2023! 🎶🌟