UNVEILED: UNTOLD Festival's Grand Middle East Debut in 2024!
Get ready, world! The musical extravaganza, UNTOLD Festival, is set to make waves with its spellbinding Middle East premiere. Dubai, known for its opulence and cutting-edge events, will play host to this epic festival from the 15th to the 18th of February at the expansive Expo City, UAE. Brace yourself, as this won't be just another festival; it's being touted as Dubai's first "mega festival," poised to captivate over 280,000 music aficionados with a lineup boasting the globe's elite electronic musicians.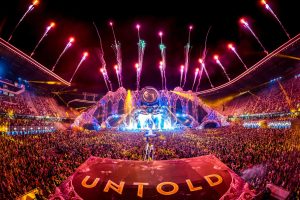 The announcement of the fest Dubai edition sent shockwaves in the music industry when they joined forces with the legendary Dutch DJ, Armin Van Buuren. But here's the showstopper – they chose the iconic Burj Khalifa as their stage, transforming this architectural wonder into a riveting LED display for a performance like never before. If you haven't seen this epic world-record moment, you're in for a treat; catch the spectacle right here!
Commenting on this grand affair, Ahmed Al Khaja, the CEO of Dubai Festivals and Retail Establishment (DFRE), expressed, "With events of the magnitude of UNTOLD gracing Expo City, we're showcasing Dubai's unmatched capacity in hosting world-class events. This venture not only boosts our city's global image but is a stride towards our ambition: making Dubai the world's unrivaled spot to visit, live, and thrive."
Need a taste of what UNTOLD brings to the table? Reflecting on UNTOLD's festival in Romania, 2023, the event soared in rankings, clinching the 6th spot in DJ Mag's Top 100 Festivals. With a star-studded roster featuring icons like David Guetta, Martin Garrix, Armin van Buuren, Alesso, Eric Prydz, and many others.
The buzz is real, and you'll want to be a part of it! Tickets for UNTOLD Dubai are now on – get into www.untold.ae and snag those Early Bird four-day GA tickets priced at a competitive 132 Euros, or treat yourself to an elevated experience with the four-day VIP tickets for 658 Euros.
Eager for more insights? Get deeper into all that UNTOLD Dubai 2024 has to offer right here. 🎉🎶🌆