Wu-Tang Clan Drops A Majestic New Hit: 'Claudine'
It's time for hip-hop lovers to turn their speakers up! The legendary Wu-Tang Clan has unveiled their latest musical gem, 'Claudine', a track that's already creating waves in the music industry. Not only is this their grand return after a six-year hiatus, but the single also features the enchanting vocals of Nicole Bus, the Dutch sensation from Roc Nation.
As fans go deep into this fresh hit, they're in for a treat with Method Man and Ghostface Killah's iconic verses, making 'Claudine' an unforgettable collaboration.
Drenched in emotion, 'Claudine' gracefully delves into the intricacies of love, grief and the rawness of heartbreak. More than just a song, it's a nod to the 1974 blaxploitation cinematic masterpiece starring Diahann Carroll and James Earl Jones. The timing couldn't be more fitting, as this masterpiece drops right during the golden jubilee year of hip-hop, a genre that Wu-Tang Clan has sculpted and dominated for a whopping 30 years. And let's not forget, the iconic group is gearing up to celebrate the 30th anniversary of their groundbreaking album, 'Enter The Wu-Tang (36 Chambers)'.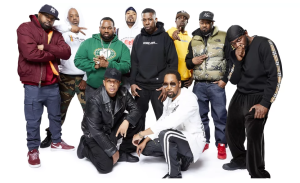 Behind the scenes, 'Claudine' comes to life under the expert touch of Mathematics, Wu-Tang Clan's trusted DJ and sound mastermind. Shedding light on the inspiration, Mathematics revealed, "'Claudine' is not just another track; it's a tribute to my mother and a salute to mothers everywhere. It's a testament to their relentless spirit, unwavering strength, boundless courage, and above all, their undying love."
And if you're craving more from the Clan, they've just wrapped up their global tour for 2023, punctuating it with epic performances alongside the legendary Nas across North America.
Turn the volume up and let 'Claudine' take you on a musical trip! 🎶🎶🎶